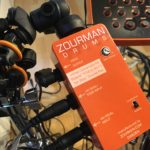 ZOURMAN CONVERSION KIT FOR ROLAND HI-HATS & 2BOX DRUM MODULE
The 2box module has become popular among e-drummers, mostly for its real samples and open-source approach with many sample layers. And while the module is compatible with triggers from other manufacturers, users have largely been restricted to 2box's proprietary hi-hat controller. The first product from Zourman.com(formally called 42Box) will enable 2box owners to use existing non-2box hi-hats – particularly the popular Roland range. Our hi-hat conversion kit combines the best of both worlds: use the Roland FD-7, FD-8, FD-9 or VH-11, VH-12 and now VH-13 hi-hats together with the 2box module.
About Zourman.com
We are a small startup company consisting of one e-drum enthusiast (known as ANGR77/Zourman on e-drum forums) and his extremely talented father (electronics designer and inventor) Together we have started to outline the Zourman.com company.(Which was originally called 42Box)
On my list of e-drum activities and inventions so far:
Big Thanks to:
We have for the Zourman project got extremely good support by Allan Leibowitz / digitalDrummer.
The drummer Johan Kullberg at DLX Music for borrowing me some Roland equipment and believe in the invention!
The incredible Jouni Niemi at Big Jambo Studios for great support (Knivsta Rules!)
Bengt Lilja at 2Box
mr Deve Loper for nice and encouraging mails!
Colin Ackroyd at Jobeky Drums
Stephen Yeager at Electronic Drum Center
Marcus Berger at Drum-tec
Denis at Lustark Software for making  software tools to manage 2box DrumIt five modules.
Lars at XLN Audio for great products!
All e-drum people on the forums (V-drums and 2box forum) and e-drum companies out there!
To contact with us / feel free to use the comment fields below or send a message on our Facebook page / Messenger page or mail me at mailto:info@zourman.com
Address: Zourman Drums, Anders Grönlund, Bergendalsvägen 21, 741 90 Knivsta, Sweden
Best Regards
Anders Gronlund / Zourman.com