Description
Many 2box owners feel the need to expand the memory of their module, and a 32GB 'hack' was developed by the e-drum community. Now, Zourman Drums raises the bar with a 64GB option.
The new 64GB SD Card (delivered and optimized by Zourman)
To find a working SD card for the 2box module can be a bit tricky – as has been discussed on the forums for decades.
Both access time and internal memory setup determines if a card work or not. It is not fun when the card 'goes wrong', especially if it happens while you're playing a gig! The SD Card memory is essential to the function of 2box as it reads samples directly (no load time) and uses the SD card as RAM memory.
Zourman Drums have been able to source 64GB cards, which have been hard tested in our environments to secure the right function and provide a fault-free plug-play operation. With the 64GB SD Card option – you can turn your DrumIt Three and old DrumIt Five MKI and the new DrumtIt Five MKII into a dream machine with all of your favorite sounds!
The cards have all been tested in 2box modules before delivery and are partitioned and formatted for 64GB – but they are delivered without 2box content due to copyright restrictions.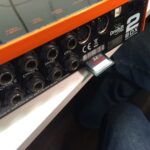 Zourman Drums best links to create your best 64GB of 2box sounds:
Please note:
Don't use the USB connection, if using SD cards larger than 4GB – the content on the card will be erased immediately when attaching the USB cable to a computer.
Please be sure your module is running Boot Loader 1.30 or later, the earlier 1.10 boot loader may not be compatible. (Auto updated with newer OS from 2box)
The 2box image/software/content must be downloaded directly from 2box. (Not included or installed for not violating any copyrights)
If you want to copy content from an old card including 2box settings – Make a backup first! – The copy the OS (DrumItOS*.bin and globalconfig.dcfg) from your DrumIt 3 to the 32 GB card.
The SD card has been partitioned and pre-formatted for use in 2Box. Please don't reformat the SD card – all partition information will be destroyed and this will make the 64GB unusable.
This product has limited support from Zourman Drums. (Best efforts)
This product only includes a 64 GB approved SD card.
64GB is the maximum amount of memory which 2Box module can handle.
The 64GB SD Card manual can be downloaded here.