Description
ZOURMAN DRUMS SAMPLES LUDWIG BLACK BEAUTY 1920s SNARE FOR 2box™ DRUMIT THREE, FIVE, FIVE MKII*
To extend the Zourman Drums offerings, we are now turning our attention to a custom sound library of samples for 2box. With the 2box open sound source approach for sampled sounds, we were able to create a sample package based on a great snare and release it in 2box file format – DSND!
Our samples are the result of a joint venture project with Jouni Niemi, owner of Big Jambo Studios, who has been a part of the 2box family since 2009 when he designed many of the factory sounds found in the DrumIt Five module. Together, we aimed to create the best snare samples in the world!
This sample of the Black Beauty snare was initially designed for 2box DrumIt Five and is this version has been updated to suite the 2box DrumIt Three (May 2018) with 3 snare zones.
A flavour of the snare sample can also be found in the DrumIt Three factory library, named ZD BB Dow Dry RSC which we at Zourman Drums has authorized 2box to use. Read more about it in the QuickStart Manual for Three, page 15.
Historical Background: Ludwig Black Beauty Snare 1920s.
This historical 14×6.5″ Super-Ludwig Deluxe/Inspiration model is produced somewhere between 1924-1930. A couple of signs indicates that this legendary snare was a preproduction to a special artist. The series was called Black Beauty because of the black shell finnish (often with engravings) and is today well known to all drummers as the de-facto standard among drummers in the world. The drum is constructed from a single sheet of brass/nickel that is machined into a seamless beaded shell.
Jouni bought the 14×6.5″ snare from the legendary drumshop Pro DrumShop at Vine Street in Hollywood in 2009 for a fortune. According to Pro DrumShop, the snare had been left by the owner to be sold on consignment. The owner who left it was the legendary Drum Doctor, Ross Garfield. Ross is a well-known drum technician and supplier of drum equipment for some of the best-known bands in the world. We can only speculate where this rare snare was been used when Ross owned it and during the time since 1922. What we do know is that this snare showed up in Sweden and at Big Jambo Studios!
About the snare sample
Jouni describes this solid metal shell snare drum as "providing a warm, round metallic tone…"
This DrumIt Three sample pack includes 6 different 'flavours' of the snare and supports 3 zone functionality – Head, Rimshot and Crosstix. (All layers and types in the same dsnd file) All sample files are packed in zip format. You will need to unzip them before you load the DSND files into the DrumIt Three module.
Please note that using a 3 zone snare on DrumIt Three a Piezo+Switch+Switch based e-pad is required.
This version also works fine for DrumIt Five and Five MKII!!
In release 2 (added 2020-03-17) we included all our 2box knowledge in terms of mixing, cutting, levels, optimized silence and made 4 different acoustic treatments of the snare – from dry, normal, effect to wet. (These package includes 3 zones, head, rim and rimshot)
Included in the package: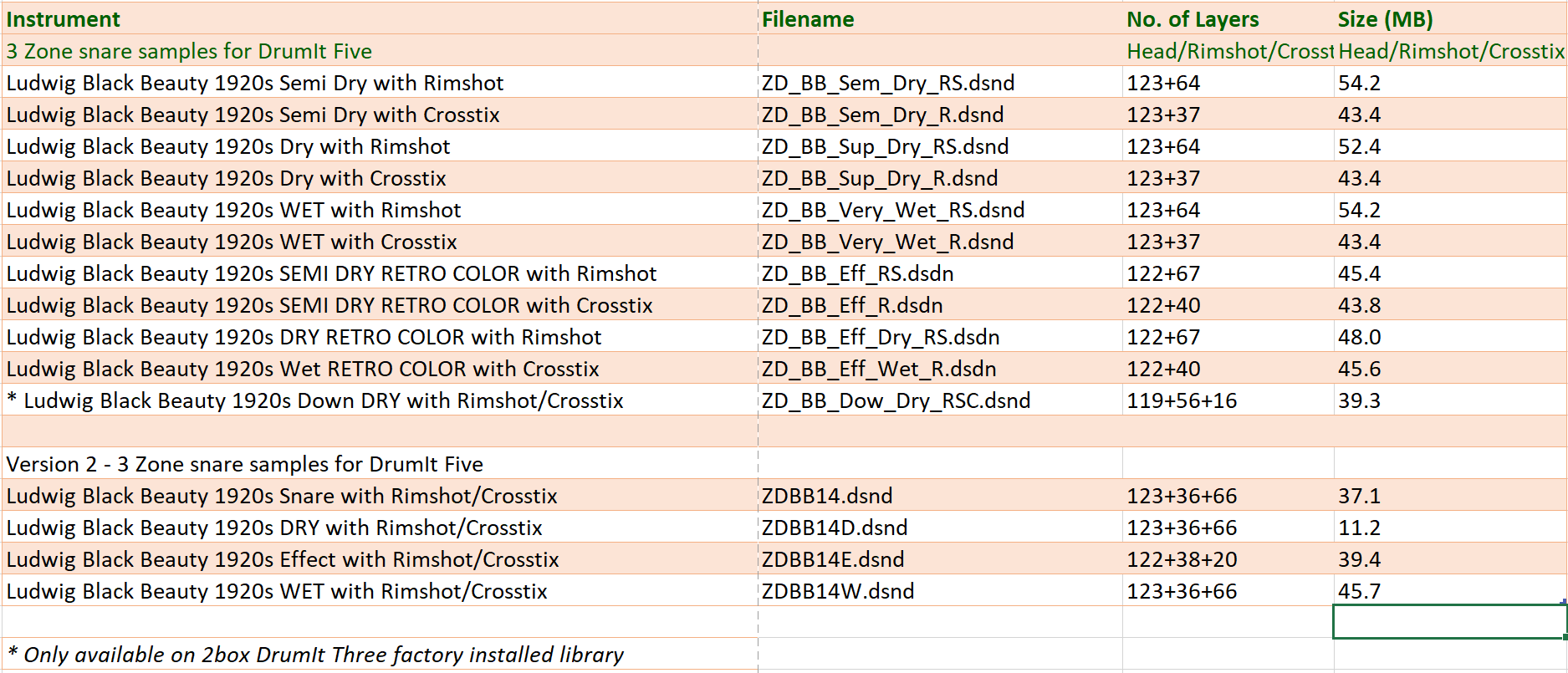 The snare package is available immediately when checking out as a download. There are 2 zipped files which is a about 60 MB each of the 6 snare packages. + 73 MB for the zipped V2 snare package files. You get both the V1 and V2 versions when ordering! Previous buyers can logon to their account page and download V2 for free. 
Zourman Drums Ludwig Black Beauty 1920s Snare Manual
Here you will find the complete description about the snare, sound, installation and knowledge!
Manual Download
Video based sound sample