Description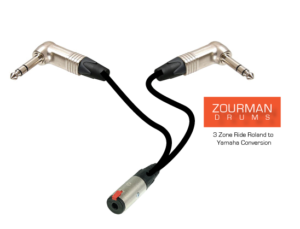 Conversion cable for Roland & ATV's 3 zone e-cymbals with dual outputs for bow/edge + bow/bell (like CY-12CR, CY-13R, CY-15R and most ATV Cymbals like aD-C18) to drum modules that can receive 3 zone signal on a single TRS input.
The cable works with drum modules like Yamaha, Pearl Mimic Pro, MegaDrum and eDrumin which supports Yamaha 3 zone input connections thru one stereo cable – TRS.
One of the teleplugs for the bow/edge input is equipped with a resistor to be able to separate the edge switch from bell switch and Through this creates three zones according to the Yamaha standard.
The cable is equipped with Neutriks best connectors with dual 90 degrees connector plugs to fit the Roland's CY-13R/15R e-cymbals and the female jack has a connector lock to secure the cable to be fixed at all times!
Please see the review made by Luke at e-drum workshop: