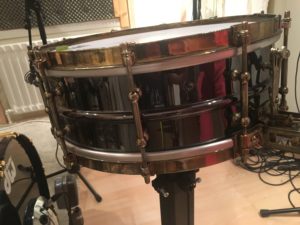 Hi!
I just realized that our 3 zone snare of the legendary 1920s Ludwig Black Beauty delivered by Zourman Drums/Drumforce found in the 2box DrumIt Three factory library is used by a lot of predefined factory kits in the "Three" . (Extremely fun for us at Zourman Drums!)
The DrumIt Three kits using the Zourman Drums Black Beauty are:
6, DrumIt Live Kit
13, The 2 Snare Kit
19, Stockholm Jazz
28, Loop Bossa
29, 103 BPM Rim Loops
35, Studio Muller
39, Jazzland
78, Under Pressure
87, Birdland
This 14×6.5″ Super-Ludwig Deluxe/Inspiration model was produced somewhere between 1924-1930. A couple of signs indicates that this legendary snare was a preproduction unit to a special artist and that it is therefore produced before 1924 (We believe around 1922). The series was called Black Beauty because of the black shell finnish (often with engravings).
Zourman Drums/DrumForce recently launched the complete pack with the rest of the sampled sounds of the Black Beauty snare (about 6 sound packs more) especially for 2box Drumit Three and support for 3 zones. (e.g. Head, Rim & Crosstix in the same dsdn) This pack also works for DrumIt Five, but here you need to manually select between the Rim or Crosstix sound.
More details about this legendary snare – please have a look at this link
Best Regards
Anders / Zourman.com